Yellow Rose Theater from Moore OK will be presenting their production "The Guest" here in Eldorado!
CHECK US OUT ON FACEBOOK!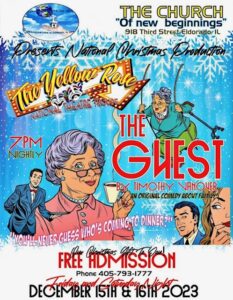 We are now a Distribution Site for
Tristate Food Bank's Commodity Supplemental Food Program
for Seniors 60+ in Saline County!
UPDATE: WE ARE NOW APPROVED TO TAKE APPLICATIONS FOR
GALLATIN, WHITE & HAMILTON COUNTY RESIDENTS!
If you know someone who lives in Saline, Gallatin, White or Hamilton Counties and meets the age and income guidelines, send them our way.
Regular hours for this program are Wednesday & Thursday 10am-12pm.
Call (618)273-3797 for more information.

The Lord spoke to Apostle Toby that we were to give out 1,000 of these boards. We have called them "Blood Tokens" because they have the Scripture Exodus 12:13 on them, which says, "And the blood shall be to you for a token upon the houses where ye are: and when I see the blood, I will pass over you, and the plague shall not be upon you to destroy you…" Check out our Facebook Page and watch the live videos for more information on how to get a board and to learn more about them.